Chairman's report snapshot
Very much like the Houston Space Station's catchcry of 'we have lift off', the Bulls Masters have "we have synchronisation". Ours, is with Queensland Cricket, at last! We are now adding to the breadth of cricket coaching work being done and enhancing an already good structure in the State. It's been a stressful time for QC, reacting to Covid-19 inactivity and expected revenue declines, so we're pleased to be here, to assist in many of their programs.
Together we can still provide classy clinics to the best regional juniors as well as maintain their focus of improving local competitions for the players who aren't involved in rep teams. For Qld Cricket, Qld Country Cricket and the Bulls Masters to be able to access passionate former and sometimes current Queensland players is very handy. We are the perfect community vehicle for assistance of many types and we're getting stronger. We have now moved significantly into the Wide Bay region and specifically the regional city of Bundaberg. The community, volunteer and player engagement in the area is sensational and deserves recognition.
Managing Director's report snapshot
Over many years, sport prepares people for the unexpected. You learn to cope with days of great triumph and days of disappointment. That experience helped the Bulls Masters in 2019/20 as we joined other sports-based organisations in dealing with the impacts of COVID19. We were quite fortunate to have completed the most of our annual calendar when the pandemic began – we sympathise with other organisations who did not have that good fortune. Our changes included the postponement of our Gatton and Emerald tours and one of our fundraisers in Cairns. Of course, we also had to place on hold the 25-year anniversary of the first ever Sheffield Shield win. We will make all of these up in time – that's not in doubt. And we are very conscious that many clubs, communities and grass roots organisations are going to need the Bulls Masters more than ever to help rebuild in tough times.
Prior to COVID, Bulls Masters once again had an extremely satisfying year across all levels. We continued our work throughout regional Queensland and we continued our role as the major sponsor of the Queensland Bulls, the Queensland Fire and the Brisbane Grade competition.
Our charter remains unchanged: to deliver opportunities, tournaments, events for fundraising, support causes outside of cricket, provide specialist coaching for both players and coaches and to engage the former Queensland players. We want to do this consistently and with quality. Those goals are not negotiable.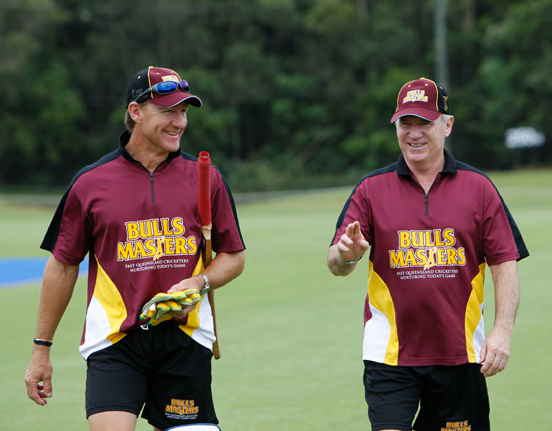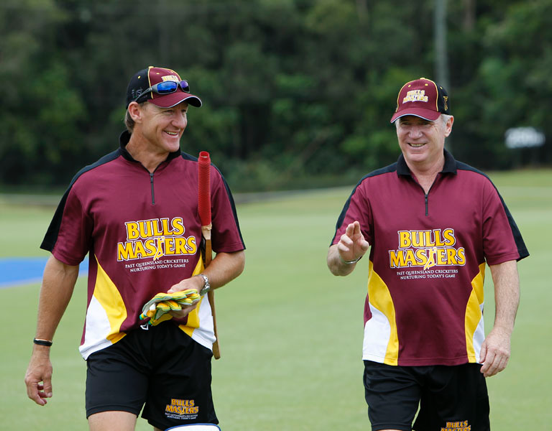 THE BULLS MASTERS HAVE
INVESTED OVER $263,568

INTO COUNTRY CHALLENGE, YOUTH CUP, CRICKET DEVELOPMENT (COACHING) AND SCHOOL VISITS. WE ARE PROUD TO HAVE

RAISED $55,176

IN THE LAST YEAR AND

$783,219

SINCE INCEPTION INTO THE COMMUNITY.
Year in review
TOURS
Mt Isa, August 2019
Clermont, August 2019
Bundaberg, September 2019
Toowoomba, Darling Downs, September 2019
South East QLD, October 2019
Warwick, January 2020
EVENTS AND ACTIVITIES
Disengaged Students Program, Mt Isa, August 2019
Cricket Coaching Clinics, Clermont, August 2019
Country Challenge, Bundaberg, October 2019
Youth Cup, Mackay December 2019
Steak and Shiraz Wests Lunch, Brisbane, December 2019
Maroon Cap Day, Brisbane, November 2019
Country Challenge Final, Brisbane January 2020
Warwick Tour, January 2020
Warwick Coaching Clinic, January 2020
Warwick BBQ Dinner, January 2020
Nudgee, February 2020
Bundaberg Tour, Feb/March 2020
Golf Day, Coral Cove, February 2020
School Clinics, Bundaberg February 2020
Coaching Forum, Bundaberg, February 2020
T20 Match Bulls Masters v Bundaberg Invitational
XI, February 2020
Gala Dinner, Bundaberg, February 2020
T20 Match, Salt Oval, Bundaberg, March 2020