The top teams in Regional Queensland face off in Cairns to determine who has bragging rights as the "Bush's Best".
The Bulls Masters Country Challenge comprises Eight regions outside of Metropolitan Queensland. Those teams are South East Queensland Stormers, Wide Bay Flames, Darling Downs Suns, Mackay/Whitsundays Nitros, Central Queensland Seamers, North Queensland Monsoons and the Far North Fusion. This year the eighth team will be the Country Queensland under 21's side who replace Gold Coast.
The tournament will be played in Cairns at Griffith Park and Cazaly Stadium starting on Friday the 30th of September.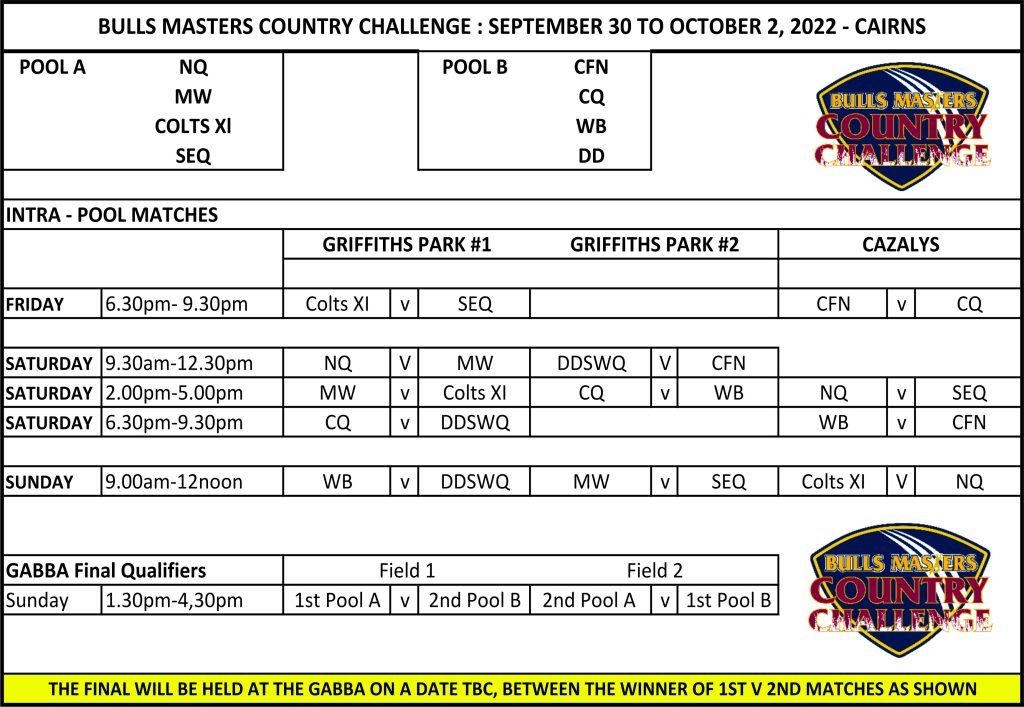 The Country Challenge will run with two pools. Pool A includes North Queensland Monsoons, QC Colts XI, Mackay/Whitsundays Nitros and SEQ Stormers. Pool B includes Far North Fusion, Wide Bay Flames, Central Queensland and Darling Downs Suns.
Each team will play the other sides in their pool once for a total of three pool games. The teams in first and second in their pool will then play a semi-final to decide who plays the decider at the Gabba in January.
At this stage, the final will be held on January 11th before the Brisbane Heat and Perth Scorchers Big Bash League game.
Previous winners are:
2012 – South East QLD Stormers
2013 – Gold Coast Thunder
2014 – North Queensland Monsoons
2015 – Far North Fusion
2016 – Mackay/Whitsundays Nitros
2017 – Central Queensland Seamers
2018 – North Queensland Monsoons
2019 – Gold Coast Thunder
2020 – Final canceled due to Covid-19 (Darling Downs v NQ)
2021 – North Queensland Monsoons